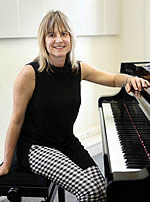 MUSICAL DIRECTOR
ANDREA VICARI Bmus LGSM PGCE (PIANO)
Professor of Jazz Piano
Senior Lecturer
Trinity Laban Conservatoire, London,
Andrea Vicari  made her mark on the jazz scene both as a pianist and composer and has five albums under her own name as well as two records with 'Jazz Extempore'; a multi-national project formed through a cultural exchange initiated in Croatia. Andrea has written music for this band and arranged UK tours including a recent residency at Lyth Arts Centre in Scotland. She has just released an album of original songs with vocalist Trudy Kerr called 'The House". Most recently Andrea has performed the Marlborough Jazz Festival with South African Trumpet star Claude Deppa;  Teignmouth Jazz and Blues Festival with Steve Waterman; Stratford Jazz, Shrewsbury Jazz ; Scarborough Jazz Festival; and The Bulls Head Barnes with Ex Ronnie Scott sax player Mornington Lockett. She has performed with world greats Eddie Harris and Art Farmer. Andrea is a jazz piano professor and senior lecturer at Trinity Laban conservatoire - one of the leading colleges in Britain for Jazz studies. 

Andrea presents a weekly radio programme "Andrea Vicari's Jazz Doodles"; on www.jazzlondonradio.com;  which debuts every Tuesday at 3pm and is repeated at various times throughout the week. In the past year she has broadcast interviews with leading jazz artists including John Taylor; Hiromi; US stars Bill Stewart; Marc Copland; John Abercrombie and Larry Goldings; plus Bill Laurance (Snarky Puppy); Omar Puente; Joe Stilgoe; Bobo Stenson and many more.
"a brilliant young British talent" Humphrey Lyttleton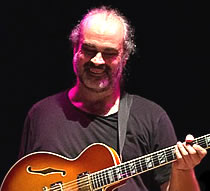 GUITAR
JEZ FRANKS Bmus
Professor of Jazz Guitar
Birmingham Conservatoire
Jez took up the guitar age 15 and attended Leeds College of Music acquiring the College's Jazz Guitar Prize.  He has played, recorded and toured with a variety of ensembles includingTom Arthurs' 'Centripede', Asaf Sirkis' 'Inner Noise', the Koby Israelite Band, 'Centreline', Henry Lowther, Loz Speyer's 'Timezone', Gerard Presencer, Rick Astley and 'Solstice' alongside Brigitte Beraha, Tori Freestone and John Turville, with recordings for Babel, 33 records and FMR and performances including the Cheltenham, London and Haskovo (Bulgaria) Jazz festivals, a live performance for BBC JazzOn3 and tours of Portugal, Poland and Austria.  He also is part of the 'E17 collective', a group of jazz musicians set up to promote and develop the hotbed of talented musicians based in Walthamstow, London.

"a staggering improvisational force" All About Jazz

"Franks is a fluent but punchy player, supple, long-lined solos streaming from his guitars" The Times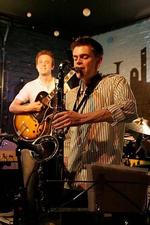 SAXOPHONES
DUNCAN EAGLES Bmus (hons)
After studying at the Dordogne Jazz Summer School (yes, we have to take all the credit) Duncan established himself on the UK Jazz Scene performing with top jazz musicians including Dave O'Higgins, Derek Nash, John Etheridge, Gary Husband, Alex Hutton, Jason Rebello, Kit Downes and Shabaka Hutchings. Duncan first picked up the saxophone at 16 years of age and at 18 was accepted onto the Jazz course at the the Trinity College Of Music. The rest is history .....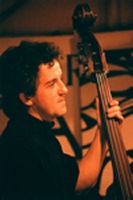 BASSES
DORIAN LOCKETT
Dorian studied at the Guildhall School of Music before carving out a career on the London Jazz scene, playing with Phil Bent, Alan Barnes, Dave O'Higgins, Phil Robson, Dick Pearce, Clare Hirst, Don Weller, Chris Tobin etc. He taught bass guitar for five years at Morley College in London and led jazz workshops at Kingsway and Camden institute. He ran a jazz club for G.E. Aldwinkles and the Bedford pub in Balham, under the title "Jazz in the Round". Dorian plays on four Andrea Vicari CD's which he co-produced. He pioneered the use of sunglasses as a teaching aid and is a third dan at extreme kinito. He can count
Elvis
as a friend.
"one of the finest bass-players in Norbury"
Giles Davis

fandalism.com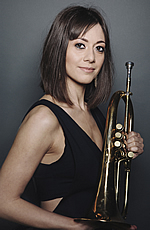 TRUMPET
YAZZ AHMED
Yazz Ahmed is a British Bahraini trumpet and flugelhorn player. Since releasing
Finding My Way Home
in 2011, Yazz has emerged as a distinctive voice on the UK Jazz scene, both as a soloist and composer. She has played alongside Toshiko Akiyoshi, Steve Williamson, Courtney Pine, Sir John Dankworth, Troyk-estra, Jazz Jamaica, The Human Revolution Orchestra, and Arun Ghosh. Yazz has also recorded and performed with Radiohead, Max Romeo, Lee 'Scratch' Perry, ABC, Swing Out Sister, Marc Carroll, and has toured the world with art-rock band, These New Puritans, as a soloist and member of their septet and quintet.
She plays flugelhorn on Radiohead's album The King of Limbs and The King Of Limbs Live From The Basement, which was screened worldwide during July 2011. In 2012, Yazz represented Bahrain in London's Cultural Olympiad, .......
"Ahmed has a true tone and spins long lines over complex, self-penned structures.'"
The Financial Times
http://yazzahmed.com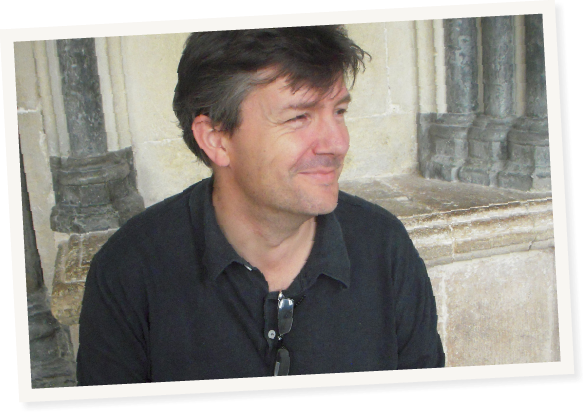 VOICE
PETE CHURCHILL
Professor of Jazz Composition
Royal Academy of Music


As an educator and choral director, Pete is very much in demand abroad - teaching regularly in Australia (Perth, Sydney, Melbourne), including a spell as visiting Professor at the Kodaly Summer School at the University of Queensland in Brisbane. He has given Jazz workshops for the ABRSM in the Far East (Hong Kong, Malaysia and Singapore) and closer to home he has been a guest lecturer at the Sibelius Academy in Finland. Much of Pete's time now is taken up with directing his own choir 'The London Vocal Project'. In addition to high profile performances with Cleo Laine, Norma Winstone, Kenny Wheeler and, most recently Bobby McFerrin, this seminal ensemble of young singer/workshop leaders regularly join Pete on his massive educational projects and they are fast gaining a reputation, under his guidance, as the next generation of gifted educators.






VOICE
PAOLA VERA Mmus
Professor of Jazz Voice
Bordeaux Conservatoire
An experienced and highly skilled teacher, performer and workshop leader specialising in voice and piano, having just completed a Masters degree (Mmus distinction) from The Royal Academy of Music, London, after taking her Bmus at Trinity Laban Conservatoire. A fluent Spanish speaker from her Venezuelan heritage Paola also speaks fluent French. Paola has just released her second album "
Addicted to My Love
" on
DotTime
Records. Paola released her first album "
Spellbound
" produced by Paul Booth (Steve Winwood), and engineered by Grammy nominated sound-engineer James Towler. Recent radio airplay includes a feature of my performance at 'The Steinway Festival' held at Pizza Express Dean St, broadcast on Jazz line-up radio 3.
"Sings with beautiful measured phrasing and dark tones"
Jazzwise Magazine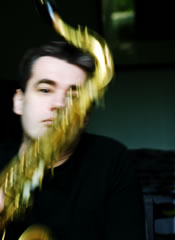 SAXOPHONES
MARK LOCKHEART
Professor and Senior Lecturer Trinity Laban Conservatoire, London

Mark is acknowledged as one of the most distinctive saxophone voices in Britain today. He came to prominence in the mid 1980's with the popular British big-band Loose Tubes and after recording and touring with Loose Tubes, Roger Dean , Django Bates, Prefab Sprout and Annie Whitehead started his own group in 1989. Currently working with the Mercury nominated "Polar Bear" alongside Seb Rochford and Pete Wareham, he was also a featured artist in the opera "Anna Nicole" at the Royal Opera House in London.
"Lockheart is a consummate saxophonist and a original and versatile composer" The Rough Guide to Jazz
GUITAR

JONATHAN BRATOËFF

During his time in London this French guitarist became an important part of the UK jazz scene. He is a founding member of the award winning F-IRE collective playing alongside jazz luminaries Seb Rochford, Pete Wareham, Ingrid Laubrock, Tom Arthurs, Ben Davis, Nick Ramm and many others including Julian Siegel, Martin Speake, Soweto Kinch, Orphy Robinson, Shabaka Hutchings. Jonathan now lives in Berlin.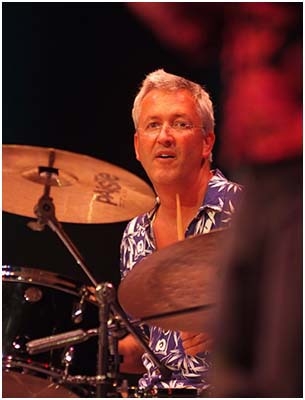 DRUMS
NIC FRANCE


Loose Tubes founder member and session drummer extraordinaire; Nic has worked with Ian Carr's Nucleus, Allan Holdsworth, Jim Mullen, Martin Taylor, Ronnie Scott, Kenny Wheeler, Hank Crawford, David 'Fathead' Newman (Ray Charles' sax player), John Taylor, Gordon Beck, L. Shankar, Mose Allison, Tim Whitehead and appeared on a TV drum clinic with Billy Cobham.He then started working in the Rock and Pop music world, with such artists as: Bill Withers [2 tours U.K. & Europe], Tanita Tikaram [3 World tours and 3 albums] and Working Week [3 European tours + Japan and 3 albums]. Recorded with Pete Townsend, Thomas Dolby and have recently played with Annie Lennox and Nigel Kennedy. Most famously he has also been working with David Gilmour (Pink Floyd) in his acoustic project of which there is a DVD; 'David Gilmour Live'.