The summer school aims to provide an intimate environment for practical music making and education in the jazz genre. Improvisation, jazz harmony, an exploration of various jazz idioms, and group performance will be the main areas covered. At the end of the week there will be the opportunity to perform to a live audience from the local community. We provide course materials and a download of musical examples.



LOCALITÉ

The main concept behind the Dordogne Jazz Summer School is to combine the fun of a jazz course with a sun packed holiday. The area is of outstanding natural beauty with excellent local wine and cuisine at affordable prices. We strongly recommend that you don't miss out on at a least a little exploration of the region. Check out our links page for some ideas. Or download the pdf guide Things to do in Lot

No beginners please. No Vocalists - (see
vocal course
). You need to have been on the first week or a similar course before, or have a good grounding in the basics from another source. Please give details of your training and experience when applying. Places will be limited so priority will be given to people who book for both weeks and to more advanced players - and of course those who book early. Please be aware that we have no control over applicants self-assement of their own ability. Which is why we call it "intensive" as opposed to "advanced" week. So there may be some students who are a little out of their depth. We divide the course up into groups according to ability to ameliorate this but it will always be mixed ability. On the other hand if you feel at all nervous that you might be out of your depth - you won't be alone.
We generally have a theme each day which acts as a prism with which to view the day's tunes and how to improvise on them….

The 2021 themes were
| | | | | |
| --- | --- | --- | --- | --- |
| Sunday | Monday | Tuesday | Wednesday | Thursday |
| Chick Corea Day | Playing by ear. A day without music ! | Group composition | Show tunes day | African Jazz |

The 2020 themes were
| | | | | |
| --- | --- | --- | --- | --- |
| Sunday | Monday | Tuesday | Wednesday | Thursday |
| The art of developing a solo, narrative & techniques | Be Bop - repertoire, language. 100 yrs ago Charlie Parker was born | Focus on rhythm - How to really get that swing, how to groove and use rhythm as an improvisational tool. | 100 YEARS of Brubeck and Peggy Lee | Jazz that don't swing ! (Music not swing e.g. funk, rock, latin, anything else!) |
The
2019
themes were
| | | | | |
| --- | --- | --- | --- | --- |
| Sunday | Monday | Tuesday | Wednesday | Thursday |
| Reinventing the Standard | Wayne Shorter Day | Beyond Be-Bop | Rediscovering Show themes | Celebrating the music of female jazz composers |
The
2018
themes were
Sunday
Monday
Tuesday
Wednesday
Thursday
Fusion Day
'Developing a compositional approach to soloing."
Celebrating Early Jazz
The Art of Playing Countermelodies.
The Lost Repertoire of Jazz.
Joe Henderson Day

The 2017 themes were
| | | | | |
| --- | --- | --- | --- | --- |
| Sunday | Monday | Tuesday | Wednesday | Thursday  |
| Monk Day | 'World music day' how this has affected jazz and core language | 'Back to swing with a focus on Charlie Parker' | 'Jazz as a 21st art form and the new music emerging' | 'How jazz has drawn on classical music and vice versa. How to incorporate some of these ideas into your improvising.' |

In 2016 the themes were
Sunday
Monday
Tuesday
Wednesday
Thursday
'1980's in transition' 
The era of fusion jazz 
& extended composition.
'Miles at 90'
His legacy
'Riff Based Standards' 
Repertoire and 
improvisational use.
'Protest Music "
In light of the Brexit vote 
a celebration of  protest music!
'European jazz" movement away from the American songbook.

In 2015 themes were
Sunday
Monday
Tuesday
Wednesday
Thursday 
The Tools of improvisation
'The art of playing Ballads'
'Getting a band to gel' rehearsal techniques working with singers.
'Ornette Coleman and harmolodics.' 
'Behind the lead sheet'
Looking at jazz standards and how to interpret a lead sheet.
Friday's programme is a rehearsal for the grand finalé concert and groups revise and rehearse what they've studied during the whole week. This year's programme won't be finalised until nearer the time.
NO INDIVIDUAL TUITION - Sorry

Tuition on individual instruments is not available due to pressure of time. It's only a week's course.

A basic ability to play one's instrument is required and music reading would be helpful but not essential. The styles of jazz will include standards, bebop, modal, latin and contemporary. We divide the tutor groups into six levels according to ability initially according to what you write on the booking form. There are "Option Groups" such as BIG BAND / SALSA BAND / SOUL BAND / MINGUS BAND / SUPER SAX / MONK BAND etc. which break up the day .

10.00 Improvisation workshop e.g. Pentatonics.
Learning of the blues scales and it's relationship to the pentatonic family of scales; using pentatonics over chord sequences; pentataonic based harmonies and their wider use in jazz; chord make-up & voicings; swing rhythm vs. 'straight eights' (rock rhythm); and listening and analyzing performances from famous jazz artists who use this tool - such as McCoy Tyner, Chick Corea etc
11.30 Coffee break

12.00 Group music making/small bands. This will involve putting into practice concepts studied that morning. e.g. Learning some blues tunes, rehearsing the numbers, constructive criticism of improvisation and the ensemble. Studying the role of each instrument within the particular style.

1.00 Lunch in the Chateau de Monteton restaurant

2.30 Different each day
Previous years have included activities such as MASTER CLASSES / BIG BAND / SALSA BAND / SOUL BAND / MINGUS BAND / SUPER SAX /MONK BAND etc.

OR Masterclass led by (for example) Tony Kofi
A performance of some well known standards by the tutors' band with particular emphasis on the role of the saxophonist in jazz. Areas covered will include how harmony and melody are best interpreted on the instrument; improvisation, scales and patterns. Practical issues will also be covered such as breathing, embouchure, intonation and creating a good tone. All students will be encouraged to attend and ask questions. Particularly confident saxophone students will be invited to play with the tutors.
4.00 Free Time Left open for individuals to choose their own pursuits. These could include individual practice time; extra tuition in the areas covered that day; small group rehearsals for the evenings jam; classes in particular areas requested by students, or simply enjoying the area and relaxing with a glass of wine.

6.00 Aperitif Jam
An informal session in which students can try out what they've learned (and maybe teach us a thing or two !) in a relaxed 'Jazz Club' atmosphere accompanied by fine wines of the region. Music will be drawn mainly from the standard jazz repertoire. This is also a chance for students to suggest music they would like to play, and for tutors to learn the strengths and weaknesses of course members in order to better structure lessons to their needs.

7.00 Tutor led performances Each tutor leads their workshop group in performing the pieces they've learned that day.

8.00-9.30 Dinner in the Chateau de Monteton restaurant or terrace. Often accompanied by tutor performances , dinner jazz sets and enthusiastic students who just can't stop playing !

9.30 Late night jam session
Play all night (if you like) in the Cave . In past years students jammed far into the early hours with short breaks for drinks in the bar and a quick game of "Kinito", the local dice game. This session is unsupervised and students take responsibility for organising their own bands and music. NB the "Cave" where the jam sessions will be held is in the basement of a different tower to the sleeping accommodation, (and behind several feet of mediaeval masonry), so those students wanting an early night will be free to do so undisturbed.

The regular jazz vocal course that has been running for the last few years with Paola Vera and Pete Churchill.
There are no individual lessons because of lack of time but every singer does get individual attention and coaching on their solo and lead performances from tutors. We aim for a maximum of sixteen vocal students.
This programme runs alongside the "
Intensive
" jazz instrumental course which consists of five workshop bands.
The Classes
will explore a wide variety of repertoire and improvisation approaches whilst also dealing with physical vocal technique and song interpretation.
Full details below
.
The Repertoire
will cover a wide range of styles from jazz standards, blues, and latin with an emphasis on improvisation and the jazz idiom from the "Great American Song Book".
Lessons will include
- How to find your ideal key
- How to transpose
- How to rehearse songs
- How to start improvisating from a jazz perspective
- How to communicate lyrics
- Song interpretation
- How to communicate groove
- Microphone technique
- Choral work with Pete Churchill
Tutors
Paola Vera and Pete Churchill
Languages
English (primary), French, Spanish
Support staff
- professional bass player, drummer and sound engineer
Resources
-
Fully Equipped Recording Studio
, available for hire out of teaching hours | performance stage with PA, Lighting etc.
PAOLA VERA
Professor of Jazz Voice at Bordeaux Conservatoire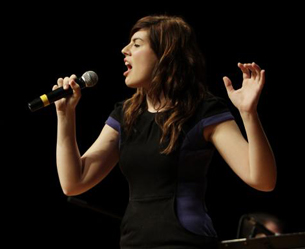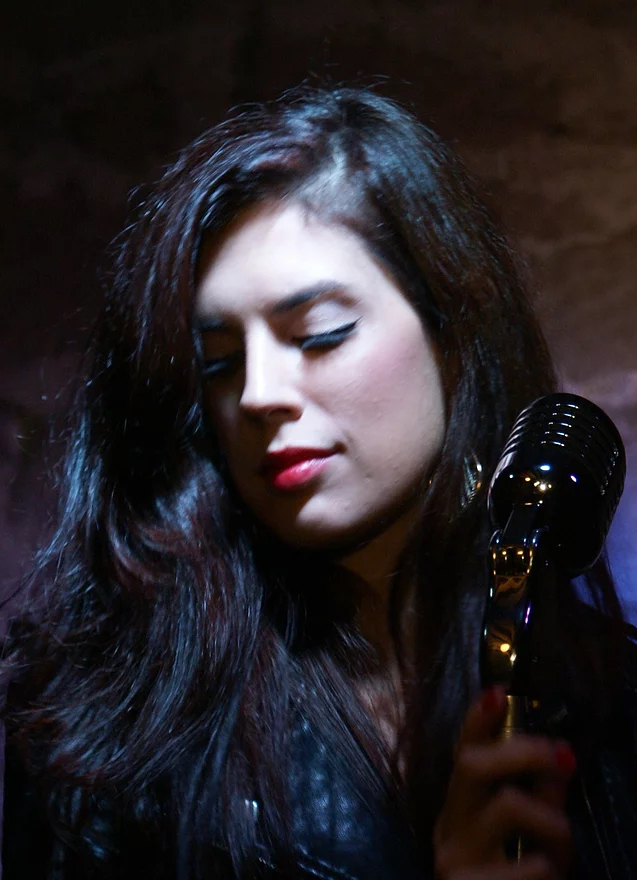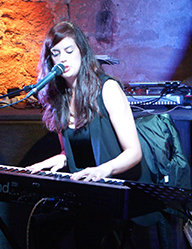 "…sings with dark and subtle tones" Jazzwise Magazine
A classically trained professional pianist, composer, arranger as well as an accomplised singer; Paola Vera is now Professor de Chant Jazz et Musique Actuelle at Bordeaux Conservatoire. Paola's teaching experience includes work from school level, through adult education workshops and a stint as tutor on the Trinity Conservatoire jazz summer school alongside respected vocal jazz educators Pete Churchill and Iain Mackenzie. Paola is musical director of Wye Community Groove Choir and is a member of the The
British Voice Association
. As a fluent Spanish and strong French speaker Paola welcomes applicants from Spain, Latin America and French speaking nations.
"A rare talent with an individual style and sound… she has an astonishing level of sophistication for someone so young." –
Norma Winstone
In April 2011 Paola released her debut album, 'Spellbound'  a collection of original catchy pop songs which incorporate hints of acid jazz, R&B and soul. Produced by the highly acclaimed multi-instrumentalist Paul Booth (Steve Winwood) and recorded at Wincraft Studios by Grammy nominated producer James Towler.
Paola was trained at Trinity College of Music and The Royal Academy of Music in London after receiving the Elton John Scholarship. Paola was awarded a Yamaha Jazz Award for outstanding young Jazz musician. She has been a member of thes London Vocal Project, and with Norma Winstone on the Edition release 'Mirrors' by Kenny Wheeler. At the Steinway Festival her own material and was broadcast on BBC Radio 3's Jazz Lineup. Paola regularly performs at the most exclusive parties and private events for clientele as diverse as The Times Newspaper to H.R.H King of Thailand!
The Classes will explore a wide variety of repertoire and improvisation approaches whilst also dealing with physical vocal technique and song interpretation.
Lessons will include
- How to find your ideal key
- How to transpose
- How to rehearse songs
- How to start improvisating
- How to communicate lyrics
- Song interpretation
- How to communicate groove
- Microphone technique

Vocal health
- Protecting your voice
- Building stamina
- Rest and re-couperation
Vocal techniques
- Introduction to physical warm-ups
- Basic voice production techniques
- Applying voice production technique to performance
- Development of a personal vocal style through technique
The Repertoire will cover a wide range of styles from jazz standards, blues, latin, the "Great American Song Book".
VOCAL TIMETABLE Paola and Pete don't religiously stick to the following structure and we try and get students to sing something on stage at least every other night - depending on experience and confidence. There are no individual lessons because of lack of time but every singer does get individual attention and coaching on their solo and lead performances from both Paola Vera and Pete Churchill. We aim for a maximum of sixteen vocal students. There is no time on the week for individual vocal lessons although each student does get individual attention during the day. The day starts at 10am and goes on to 4pm with formal lessons in vocal technique, harmony, song-craft and practising and rehearsing performances for the evening's jam session which begins at 6pm-8.30pm and then after dinner from 9.30pm until late. Both vocal coaches are professional level pianists who can help you develop the appropriate skills in accompaniment and self-accompaniment. You will get the chance to rehearse and lead a full band for a public performance. We also offer an added extra of recording sessions in the fully equipped modern recording studio on site.
DAY 1 (Sunday) Introduction to the course - basic nomenclature of Chords and scales etc. you'll be using - Get you all singing in a small choir - last year's result here.....


DAY 2 (Monday) First look at improvising using the Blues structure - individual and duo performances that evening. Movie example (although they couldn't help but all join in on this one) :

DAY 3 (Tuesday) Learning more complicated songs from the standard repertoire to be performed that night with the bands on the instrumental course. Choosing the right key for your voice. Transposing the charts for the band. Developing a basic arrangement. Performing it. (Vocalists have to share as we only have five bands) :


DAY 4 (Wednesday) Develop individual projects for solo performance. Doesn't have to be pure jazz. Accompaniment by tutors ie: Professionals. Other singers can act as backing vocalists. Group activites are included like the Jazz/Gospel Choir. Some of the instrumentalists join in to give us a complete range of voices bass - treble (soprano). Choir rehearsals involving all students but with vocalists naturally tacking the lead. Here's Pete Churchill with the choir :


DAY 5 (Thursday) Because the last day is dedicated to rehearsing for the big concert this day tends to recap the weeks learning - theory - harmony - transposing - band leading - microphone and studio technique - developing individual songs for that night's performance - which are all covered.


DAY 6 (Friday) Rehearsal for Final Night Grand Concert - will include full choir  + performing with an instrumental group from earlier in the week + individual songs. Concert from 8pm - 1amIn addition there are Masterclasses and classes on vocal technique and vocal health throughout the week.


With our nightly jam, you will have the opportunity to showcase your material to a sympathetic audience, gaining valuable experience playing with other musicians as well as performing each night. The jams can continue all-night after dinner in the cave, with additional free concerts by the tutors and other music industry professionals.

We will also teach some more 'crossover' songs such as those sung by Stevie Wonder and Aretha Franklin. Other areas covered will include the American song book as sung by Ella Fitzgerald, Frank Sinatra and fusion styles eg. Bebel Gilberto (Bossanova) and Amy Winehouse (Pop/Jazz).


Support staff
- professional bass players and drummers (plus work with the instrumental tutors during the band collaboration classes.)
Resources
-
Fully Equipped Recording Studio
, and performance stage with PA, Lighting etc.
In common with all our courses at Monteton; amps, PA's, Keyboards (and access to a rhythm section) are provided. However if you have your own special Microphone please feel free to bring it. Week Two is shared with the DJSS Intensive course and some events such as masterclasses and jam sessions will be held in common. At the end of the week the students perform to a live audience at the showcase event.
Book Online
Click the link above to go to the booking page.

There are limited places on the jazz summer school. So please book as early as possible.

Rooms will be allocated on a first come first served basis.

If in doubt EMAIL

Or call +44 79 4192 7257


Fees include six days of jazz tuition, airport pickup, course materials; plus accommodation, continental breakfast, lunch, evening meal with wine; full use of facilities, including bar, restaurant; and transfer from Bergerac airport to the Chateau. Electric Pianos, keyboards, drum kits, Mics, PAs and some amps are provided. Partners welcome.
€ 900

per person (two sharing)

€ 550

non-participating partners*

*Partners, spouses or friends
not studying on the course,
sharing the student's room.

€ 700

offsite students

€ 400

offsite partners eating onsite.

If you live in the area or choose
to rent your own accommodation, you can join the course as a
non-resident paying fees for
tuition and food only.

€ 550

(one price on or offsite)

Special discounted flat-rate for those in full-time education. (18-24) Proof required (ie NUS card, Student ID card etc.) Possibly sharing more than two to a room. Some manual labour involved (carrying the odd amp around etc.)

€ 200

We require this deposit to be

sent at the time of booking for

each person. (including partners)

TWO WEEK DISCOUNT

€100 reduction for booking two weeks.

(discount not available at Student Rate)


*Please Note* - This is not five star luxury - see the slide-show on the left for a look at the rooms. If you require greater comfort the local hotel offers a high standard of accommodation with air-conditioning and a pool. It's possible to walk and electric bicycles are available to hire but you may decide you need a car.

Another alternative is to hire your own "gite" (holiday cottage) in the vicinity, but once again you'll need a car as there are very few within walking distance.

Within the Chateau itself in double rooms with single beds and en suite shower room/toilet. Facilities are functional but under constant renovation as the Chateau is an ongoing project. SINGLE ROOMS are not available at the Chateau, but we can offer advice on finding outside accommodation in the local area.
We welcome payment in EUROS, by direct bank transfer, Wise, Azimo or REVOLUT . For UK customers wishing to pay in POUNDS STERLING we offer a currency exchange service giving you a price in pounds when you book and payment by bank transfer.




Prices are in Euros and Sterling (£) or Dollar ($) rates are worked out when you book. To avoid currency risk you can pay the total when you book. Exchange rates may improve, but remember that they can move against you as well as in your favour.

contact us

first and we will arrange it (the bank details are slightly different as it is a French bank).

If you wish to pay directly in euros (ie not a converted Sterling/Dollar rate); please
TRAIN

Our nearest station is BERGERAC. Eurostar runs a service from St Pancras to St Jean Station, Bordeaux (changing at Paris or Lille). If possible try and get a train that stops at Libourne as this station is on both the route south to Bordeaux and the line to Bergerac. It might not be obvious from the rail websites but worth persevering as it can save a couple of hours off the journey. This is also the most enviromentally friendly way to travel with very low carbon emissions compared to flying.


There's also a coach service from Victoria Coach Station straight through to Bordeaux. From there you can take a local train (regular services throughout the day) to Bergerac. Younger students can take advantage of special rail deals for the under 26s. Check out the links below. These deals are also available for older students, but are more expensive.

The main site for european train travel https://en.oui.sncf/en/

For local travel www.ter.sncf.com/nouvelle-aquitaine

CAR

Perhaps the most economical way is to travel by car with friends or partners. Students can arrange car-sharing. If you are interested in this option tell us and we'll try to put you in contact with like-minded students. Of course you'll be needing a method of crossing the channel. If you look at our links page you'll find links to the sites of the main ferry companies.

You can drive down from the ferry ports in one day or you can take longer over the journey and make it part of the holiday. Which ever way you're traveling, let us know when you book and we'll give you as much information and advice as possible, including the best car routes. For people travelling from Dover via Calais/Boulogne using ferries or the tunnel click on the link below for a suggested route, bypassing Paris to the west. If you take a different crossing, pick the route further down.


Our nearest airport is at BERGERAC. A coach or mini-bus (dependent on numbers) will be there to meet the main Saturday flights from Ryanair; and Transavia, and Jet2 and return you at the end of your stay. Flight prices can be low if you book early enough. So we strongly suggest you book your tickets as soon as your place on the course is confirmed, and watch out for special offers.


BORDEAUX AIRPORT
Check out the links page for flight information from British Airways, and BmiBaby to Bordeaux, but if you choose to fly there you'll have to find your own way to Bergerac. Car hire is available.

There is a coach service ferrying travelers between Bordeaux airport and the railway station, Gare St Jean, from there you can take a local train (regular services throughout the day) to Bergerac station, where we'll meet you.

TOULOUSE AIRPORT
Another option is Toulouse airport served by British Airways, AirFrance, Easyjet and BmiBaby (British Midland). But if you choose to fly here you'll have to find your own way to Bergerac. Car hire is available. If you're traveling from the UK but outside the South-East area, BmiBaby fly to Bordeaux and Toulouse from Manchester, EMA (East Midlands Airport) and Cardiff.

CAR HIRE
Car hire is available at Bergerac airport from the major car-hire firms. We are based deep in the country and having your own transport can add considerably to your enjoyment of the holiday, particularly for those accompanied by spouses or partners. The car journey between Bergerac and Chateau Monteton takes about 45 minutes.

*SATURDAY TRANSFERS ONLY*
We can only guarantee to pick up those who arrive on the arrival Saturday and return the following Saturday at Bergerac Airport (or station) - Sunday arrivals Week Three will also be met. A car or mini-bus (dependent on numbers) will be there to meet the main Saturday flights from RYANAIR. We will attempt to collect students arriving at different times, but we can't promise anything. Sorry.

Please give us information about your travel plans on the booking form.
Situated in the historic region of Aquitaine in the south west of France; the Chateau de Monteton is a twelfth century castle within a village, perched on a hill overlooking the beautiful Valleé du Dropt. The village has about 50 inhabitants, a bar and a famous restaurant, "The Treize Clochers" or "Thirteen Bell-Towers" (all of which can be seen from Monteton). It also boasts an unrivalled view of the valley of the River Dropt. It is about one hour from Bordeaux on the autoroute; half an hour from Bergerac, with it's new airport and direct flights from Gatwick; Stansted; Luton; Southampton, Bristol; Exeter, Liverpool, Leeds, Birmingham, and EMA; and twenty minutes from Marmande, the "Capital of Tomatoes". see the map



Le Takinerie

Within the Chateau is an open-air (but covered) bar "Le Takinerie", named after the local plum based brandy "Takin". Here coffee is served after meals and during breaks in tuition. In the evening a complete range of wines, beers and spirits are available. On special nights the great open-air fire is used to cook giant paellas or vast slabs of meat. At other times the chef cooks in a large baker's oven where home made pizza, bread and even coffee is roasted.
Kinito

At 6pm every evening, in the "Le Takinerie" bar, the students take part in an organised jam session playing the music they have worked on during the day. Students are free to bring their own material and often the jam continues after dinner until late in the evening. You can try out your French language skills during a session of "Kinito", the local dice game.



La Tour

Rehearsal space is within the main tower and it is here that the majority of classes are held. Below is the Cave where late-night jam sessions go on until the last man (or woman) standing can go on no longer. These are officially unsupervised sessions where students are expected to sort themselves out. Tutors often join in just for a blow however; Jonathan holding the staff record of 5.00am. The student record is yet to be confirmed.

Accommodation

is in a series of out buildings surrounding the central courtyard. Some rooms are in the passage way above the restaurant. Others in the houses behind "The Ear". Rooms have either two single beds or a double bed for couples. Bunk beds, where they exist, will be used for storage only unless you choose otherwise.Most rooms are ensuite with shower room and toilet facilities behind a discreet door. Those that share a bathroom do so with only one other room. Some rooms have spectacular views over the surrounding countryside. others are tucked away from the central square for a quieter night. Many rooms have been recently renovated as the Chateau is undergoing constant improvement.

Internet

The Chateau has free broadband Wi-Fi if you wish to bring laptops and other wifi gadgets. ( Signal can be a bit variable )
This brief guide to local activities and facilities has been produced for non-participating husbands, wives, partners and friends. We know that you would really prefer to be playing along but we do realise, albeit reluctantly, that there is a life outside jazz. This then, is for you !



Shopping

There is a small supermarket in the main square at Duras but if your needs are a little more ambitious visit Shopi. It is situated on the D708 just north of Duras town centre and has a petrol station and carwash.

ATMs are to be found in Duras at Banque Populaire in the main square or Credit Agricole at the top of Rue Paul Persil, (and in Eymet on the route national.)

The same street accommodates La Maison de La Presse where English newspapers are on sale. A cycle hire shop and an ironmonger are a couple of doors away. Opposite in the small adjacent square is a laundrette. Pressing Duraquois near Hostelerie des Ducs will also do laundry as well as dry cleaning and pressing. There are two good pharmacies in Duras where you can top up your medication or simply stock up on anti-sun or treatments for insect bites.
Places to Visit
The frescos in the church at Allemans-du-Dropt are an absolute 'must see'.
Don't miss the ancient Moulin de Cocussotte at St Pierre du Dropt (near Monteton) 06 74 16 46 82.
La Maison des Vins at Duras to learn about what you love to drink.
Jardin de Boissonna for those into things horticultural 05 53 83 81 43.
The Chais et Rasade in Duras, run by Francis Blancheton of Château Molhière, offers fine champagnes, cognacs and wines as well as a bit of tapas in the evenings.If you're a chocoholic or want to buy a few presents to take home then Guinguet 05 53 83 72 47 is a must. You can find it to the left off the Monségur Road past La Maison des Vins. Marmande (south on the D708) is the largest local town. It is a good shopping centre and also the site of the nearest hospital and railway station. If you feel like blowing a few extra euros Bordeaux is about an hour or so down the A62 and as well as being an absolutely beautiful city boasts the longest pedestrian shopping street in Europe.

Hairdressing
If you're having a bad hair day or simply want a quick blow dry then you need Coiffure Eric Bouchot in Marmande (near the market square). His telephone number is 05 53 20 79 96.
Nursery and Baby Needs
Sterilizing units, baby car seats, toys and baby foods are available for hire or purchase from Julie Shepherd on 06 37 50 23 20. Julie will be happy to deliver (equipment, that is!) and can also arrange babysitting.
Local Markets

These are well worth a visit. Buy fresh fruit and vegetables, cooked and preserved meats, saucisson and cheese, or simply experience this essential and unique aspect of French rural life. By the way, it is worth noting that they pack up at 12 o'clock midday.
Monday Duras and Miramont
Tuesday Monségur Summer Market
Wednesday Duras Summer Market
Thursday Eymet
Friday Monségur, Seyches and Miramont
Saturday Sainte Foy la Grande and Marmande



Marché Nocturnes

If you're really fed up with listening to all that jazz then there are several Marché Nocturnes (night markets) where one can buy food and wine to consume on the spot in a truly French street party atmosphere.
Tuesday Eymet
Wednesday Monségur
Thursday Duras
Friday Lévignac de Guyenne
Music Shops

We're not talking CDs here. Reeds, strings, sticks and skins… these are the things musicians need.

Musico Case
05 53 20 68 04
Rue de la République
Marmande
(just off the market square)

Paolin Musique
05 53 20 97 36
Route de Bordeaux
Marmande
(the main Route Nationale north of town)
Restaurants


Monteton


XIII Clochers 05 53 94 32 75
Contemporary gastro pub style restaurant on the doorstep – set menus with good-humoured service and a very smart outside eatery with an incredible view of the Vallée du Dropt. All food here is prepared using local produce.



Duras

Pizzeria Don Camillo 05 53 83 76 00 Exactly what it says on the tin… good pizzas and huge salads. Typically French style eating in a small tree covered square. No need to book except weekends.

Hostelerie des Ducs 05 53 83 74 58
A more formal hotel restaurant for evening dining for those with a healthy appetite. A good variety of set menus with an amazing selection of cheeses. Advisable to book.
Auriac sur Dropt

Le Camelia
05 53 20 24 62
This tiny family-run restaurant is best at lunchtime (get there before 12 o'clock) when you can eat a simple four course plat du jour alongside real French truckers. Unlimited carafe wine is usually included. The evening menu is a little different but nevertheless good value for money.



La Sauvetat du Dropt

Restaurant Ma Maison
05 53 94 33 42
Formal dining under chrome yellow parasols set in a beautiful courtyard (weather permitting) where English is freely spoken. Fixed à la carte menu. Advisable to book.



Allemans sur Dropt

L'Etape Gasconne
05 53 20 23 59
Good value for money eating at this hotel (also good for low-cost accommodation and good pool). There is always a hugely impressive buffet… beware – it's so good that it can ruin your appetite !

Eymet
Pizzeria Ristorante des Arcades
05 53 23 90 05
Unexpectedly buzzing Italian restaurant right in the centre of town with all the drama of impatient fast-moving Italian-looking waiters with French accents! Good reasonably priced pizzas, salads and pasta. It is worth noting the Italian fine wine list… absolutely mouth-watering for those in the Neapolitan know. No bookings accepted… it's first come, first served.

La Cour d'Eymet
05 53 22 72 83
Situated in Eymet on the main route to Bergerac this has to be the most accomplished restaurant in the area. The quiet atmosphere is formal but friendly where the chef de cuisine discusses his Michelin recognised menus with each table of diners. The wine list is as stunning as the food. Advisable to book.

Eymet Tandoori
05 53 58 65 35
Yes… a curry shop in south west France! This restaurant serves all the usual Bengali dishes that one can see on menus from Bristol to Bradford. The naan breads are particularly good. Oh, and there's a takeaway service just like home. The opening hours have been known to be extremely erratic… best to 'phone.
Villeneuve de Duras

Le Jardin
05 53 79 26 62
You can't miss this friendly informal restaurant when you enter the town on the D708 north of Duras. Good set menus with à la carte options are changed regularly. English spoken by the English owners as well as fluent French. Advisable to book.



Sainte Foy la Grande

Au Fil de l'Eau
05 53 24 72 60
Situated on the north bank of the Dordogne at Port-Sainte-Foy-et-Ponchapt this tastefully decorated restaurant specialises in fish. The sophisticated grey and glass interior overlooks the river towards the south where the view at sunset resembles a post-impressionist painting. Advisable to book.
Wines
No guide to this area would be complete without a mention of the local appellation… Côtes de Duras. The best way to explore this wine is to visit La Maison des Vins de Duras 05 53 94 13 48 where there is an exhibition of the local viniculture as well as an opportunity to buy wine from over fifty regional domains. Also the local cooperative, Berticot 05 53 83 75 47, has a good retail outlet just north of Duras on the D708…you can't miss this huge winery. If you wish to explore a little further then Domain Chater is the place to visit at St Sernin de Duras. This small organic winery is owned and run by an English family who will be delighted to show you around and enthusiastically explain how their wine, one of the best examples of Côtes de Duras, is made. Be sure to call 05 53 64 67 14 to arrange your visit.
Sporting Activities
Horseriding
Pony riding is available at Savignatte de Duras Tuesday to Sunday
05 53 20 28 33 and at Ecuries du Dropt, St Pierre sur Dropt 05 53 83 84 14.

Hot Air Ballooning
Entre Ciel et Terre at St Jean de Duras 05 53 89 01 25.

Quadbiking
Laurent Sambarrey at Saint Sernin offers 4-wheel excitement at all levels 05 53 94 18 68.

Tennis & Badminton
There are facilities at most local Halles de Sport. It is best to checkout these at Duras tourist information office 05 53 83 63 06.

Canoing
Canoes can be hired at Allemans sur Dropt.

Swimming
There is a municipal pool and a waterpark at Bergerac, route to Bordeaux, just past the Leclerc supermarket.
Useful Contacts

There are good tourist information centres in Duras 05 53 83 63 06 and Eymet as well as a really good websites at

www.eymetguide.com

and

www.miramontguide.com

. You can checkout the weather at

www.meteofrance.com

Doctors at Duras

Dr Chauvineau 05 53 20 56 75

Dr Abiven 05 53 20 56 70

Dr Pénicaud 05 53 83 70 14

Dentists at Duras

Dr Lalauze 05 53 83 70 54

Hospitals

Marmande 05 53 20 30 40

Sainte Foy la Grande 05 57 41 96 96
Emergencies
Pompiers (these guys cope with just about everything) dial 18 or 112 on a mobile. Gendarmes dial 17

If you find anything of interest that we've missed or wish to comment on our information please do not hesitate to let us know at
info@jazzschool-dordogne.co.uk
The restaurants mentioned here have been tried and tested by us… there are many others – your input would be welcome.


"We travel North to Monteton from our beloved Barge retirement home at Meilhan, thanks to good friends with a car. Lucie and I, together with my electric piano and all its paraphernalia, arrive from the South and are within sight of the Chateau De Monteton - a journey of about 36 kilometres. To this.......Monteton "That can't be the place" - our mutual reaction to what we see as we slowly wind up through the narrow roads leading to this pretty village. It looks like a ruined castle. But there is nowhere else to go. It is the place, as the SatNav is telling us - "You have reached your destination." ........ read more ? Click this link
Blog from Malcolm,
It's ironic that as soon as I start humming the tune to "No More Blues" to myself on the plane home from Paris, I break down into tears. It's a beautiful bossa nova titled "Chega De Saudade," a piece my group worked on throughout the week here at the Dordogne Jazz School School and performed at the big Friday night concert. The opening lyrics are "No more blues, I'm goin' back home, No, no more blues, I promise no more to roam. Home is where the heart is" The funny part is my heart's been right there all along. But I'm not really thinking of the lyrics, I'm just remembering the moment. I can see Claude, one of the Frenchmen on the course, sensuously strumming his guitar in the intro.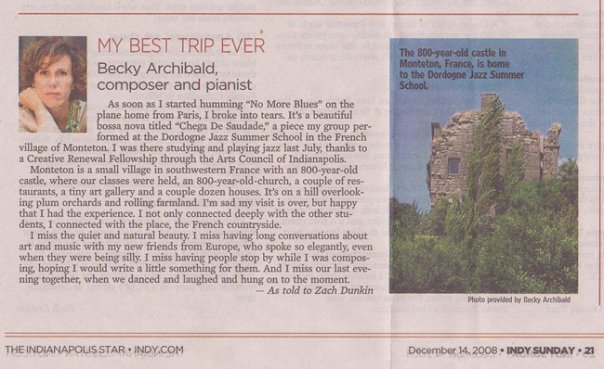 (It was especially poignant, since earlier in the day he was rushed to the hospital because of a fall, and didn'tknow if he would be able to use his hand that evening.) I can hear Irene playing the simple melody on her flute, and sweetly singing one of the verses. I've been holding back the tears since Saturday, and they come easily on the plane sitting by a stranger (a very kind one, thankfully.) I'm sad it is over, but certainly happy that I had the experience. I want to see everyone again. I not only connected deeply with -rightthe other students at the workshop, I connected with the place, with Montenon, with the French countryside. I'll miss the owner's friendly face, his beautiful children who worked behind the counter and played the dice game with me, and Jean-Baptiste, the man who ran the art gallery nearby. I'll miss the quietness, the natural beauty, the air, and having our large windows wide open at night because of the lack of bugs and humidity. I'll miss being served three splendid meals a day, watching people saunter in one by one for morning coffee and cereal, having long conversations about art and music and anything except what we actually did for a living, and taking everything at a slow place. I'll miss being with my new friends from England, Scotland, Ireland, Norway, Austria and France, who speak so elegantly, even when they are talking about silly things. I'll miss having people check in on me late at night while I'm trying to compose music, asking me how it's going, wanting to hear a few bars, encouraging me to finish, offering advice on chord changes and titles and styles I should write in and hoping I'll write a little something for their instrument. And I will miss our last evening together, after the concert, when we relaxed and danced to salsa music and laughed and hung on to the moment.
It's also ironic that after writing the paragraph above, I pulled out my book, the latest by David Sedaris, and opened to the next chapter titled "Cry Baby." In it, David tells the story of a man who couldn't stop crying on a long flight from JFK to Paris (which actually turns into a story about two men crying, because David joins in after tapping into a memory from his childhood.) I guess I'm not the only one.
Becky www.beckyarchibald.com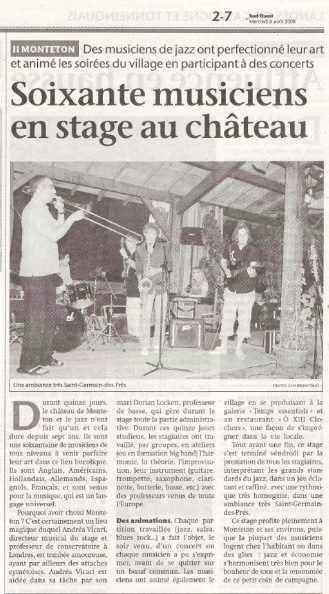 About a year and a half ago, in the winter of 2004-5, I did a web search for "jazz summer school" and up came the Dordogne jazz summer school, run by English musicians in a dilapidated medieval castle in a hamlet called Monteton in the rural countryside near Bergerac. It sounded very attractive, and I had some correspondence with the director, but I didn't manage to get well enough organized to sign up that winter. The following year I resolved to do it, and by December I had reserved a place. I made plane reservations in the early spring and even thought ahead to reserve a hotel room in Bordeaux for the days before and after the jazz school. As I geared up mentally and musically for a week of jazz, the war started here in Israel – making me rather less enthusiastic for the pleasures of life, including making music. I was a bit apprehensive and imagined the school would be populated by ambitious, young, talented musicians, who would be too stuck up to play with me, or, alternatively, with rank beginners from whom I could not learn very much. However, I assumed that I would be playing a lot, and that would be valuable.
The trip there was not fun. My flight left Ben-Gurion airport after midnight on Sunday, July 30 and, I arrived in Charles De Gaulle airport with an hour or so to get to the Air France window and get a boarding pass for the connecting flight to Bordeaux. The line was so long and slow moving that I almost missed the plane. To top things off, when I got to Bordeaux, I found that Air France had abandoned my suitcase in Paris.
My hotel in Bordeaux was very easy go get to from the airport, and the people at the reception desk were pleasant. I had arrived before check-in time, but my room was ready, and they had no objection to my going in and resting for a while. Although I was exhausted, after resting for a while, I went out and spent a very pleasant day in Bordeaux, which is an impressive city, full of grand eighteenth century buildings, next to a very wide river, but with a historic center small enough to walk around easily. Since it was Sunday in the holiday season, there were very few people in the streets.
As promised, my suitcase was brought to the hotel in the late afternoon. The people at the hotel said it happened all the time. On Monday morning I packed and then took the long walk from my hotel to the railroad station, because I love wandering around towns, and bought a ticket for the 13:35 train to Bergerac. I slowly made my way back to the hotel and checked out at about eleven. There is a tramway that goes directly from where my hotel was, a big park with the strange name of Quinconces, to the railroad station. I have since discovered that "quinconce" refers to an arrangement like the five on a die or a domino: a square with four dots in the corners and one in the center, which is the way the trees are planted in that park. I had a cup of coffee, got on the tram, and had time to eat a salade niçoise in a decent restaurant across form the station (and to have my first of many glasses of red wine) before my train left.
The train to Bergerac goes through wine country, past places like St. Emilion known for their vintages. Upon arrival in Bergerac, I followed instructions and crossed the street to a café to wait to be picked up by Simon, the jazz summer school driver and trouble-shooter, an English expat who seems to enjoy life. At the café a tall, balding young man saw that I was carrying a sax case and figured out that I was also headed for the school. His name was Christophe, he's a pianist, and he works half-time in computers and half-time as a volunteer political activist for a small socialist party in Paris. It turned out he was our token Frenchman in the course, though we had a French-speaking Swiss engineer as well. Christophe and I had a beer together, and he called Simon on his cell phone once he figured out the number from the way it was printed out on the email I had received – my Hebrew oriented computer had reversed the order of the numbers. The drive to Monteton was unexpectedly long, partially because we stopped at the the small local airport to pick up Mike, another pianist, but Simon was entertaining, as was Christophe.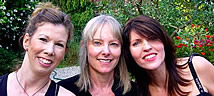 I was still uncertain how things would turn out musically. We pulled into the castle and took out our luggage, but our rooms weren't ready yet, and we didn't know whom we'd be rooming with. In fact, no one in charge seemed to be around to deal with us.(*proof that this post hasn't been censored - Ed*)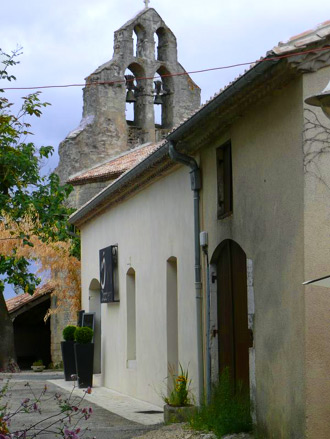 We hung around and chatted, about twenty of us, in a pleasant area between a dilapidated stone tower, a terrace with tables set up for dinner, and a low, nondescript building. After a while, some people gathered at the bandstand and started jamming. There was a British bass player named Rick, with a thatch of graying blond hair, and a drummer. Christophe sat down at the keyboard, and I took out my alto. What the hell, I said to myself, why be bashful? After all, I had paid the airfare and tuition to play. I can't remember what tunes we played, but we hit it off fairly well. Other people took out their horns, and we kept going for quite a while. When you think about it, which I have done a lot, it's rather amazing that people who have never met can start making music almost immediately.
Dorian Lockett, a bass player who, with his wife, Andrea Vicari, a pianist, run the jazz summer school eventually showed up, and we were gradually settled in our rooms. Andrea's parents have a house nearby, and their two children stayed with their grandparents. Her brother Scott, a drummer, was also around helping out and playing. Dorian more or less takes care of the administrative stuff, and Andrea is in charge of the jazz summer school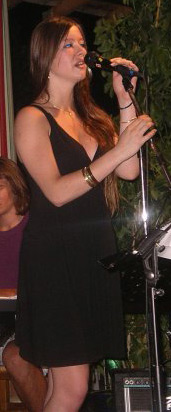 musical program. I was placed with two other guys in a long, narrow, extremely basic room, with an adjoining bathroom that was even more basic. I'm not complaining. The beds were clean and comfortable, there was hot water for showers, and my roommates were considerate. I had registered as a vegetarian to avoid problems with kashrut, and at dinner that was no problem – nor was it ever. The restaurant staff was extremely thoughtful and friendly. The food was generally fine, never very ambitious, but always satisfying, with plenty of salad, as much wine as you could drink at lunch and supper, and fresh bread home baked from organic whole wheat flour. They served great cheese after every meal, of course. There was also a bar where you could buy coffee, soft-drinks, beer, wine, or whiskey.
Look how far I've gotten, and I've barely begun to describe the musical activities. Dorian sent us a .pdf file before the school began, with the schedule, which I printed out and looked at, but it didn't really mean much to me. On Tuesday morning we started off in earnest, and I began to see how much care had been put into planning things. We were placed in two different groups, which met at different times, of course. One was known as a workshop group – each one had about a quarter of the forty participants, selected by instrument. My group, in memory of the confusion of the first evening, was known as the Bed-Hunters. (Another group was known as the Jazz Worriers – to give you an idea of the humor of the place.)
Each workshop group met for two hours or so every morning and prepared a piece for performance that evening. We also had three slightly larger ensembles, a Mingus group, a Soul group, and a Salsa group (which I chose, because I'm pretty weak on Latin rhythms). Those groups prepared performances for the final evening of the school, except for the Salsa group. We played three pieces for dancing at a Salsa evening on Friday. We also had instrumental sessions with the teachers, master-classes, and improvisation lessons. sWe had classes from ten to one and then from four to six, and organized jam sessions and performances till eight, when we had supper. After supper sometimes our teachers played for us, once a French group that was sharing the facilities with us gave a concert, and so on. There were disorganized jam sessions until the wee hours of the morning. I stayed up till one-thirty or so one night, but I didn't get much out of that part of the program.
The jazz summer school had four main teachers: two saxophone players, Julian Siegel and Ingrid Laubrock; one trumpeter, Chris Batchelor; and one guitarist, Phil Robson. Andrea worked with the pianists. They are all fine musicians and excellent teachers.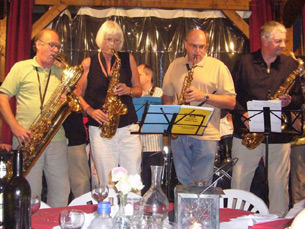 Chris was especially articulate, and, since he directed the Salsa band, I was exposed to him a lot. Julian was the first teacher I was exposed to, in a workshop for the advanced saxophone players (it was up to us to decide what level was right for us). He's a tall man with a soft face and a lot of black hair. He speaks quietly, almost bashfully, and in his class he emphasized sound production in the lower register of the horn: the most basic stuff is also the most advanced. That afternoon he also led my workshop group and taught us the song "Sweet Georgia Bright" by ear, going over it patiently, phrase by phrase, chord by chord, till we'd got it. Like all the other teachers, he was terrifically encouraging, telling us we were doing great all the time.
My biggest obstacle to improvising with assurance is my tendency to get lost in the form (or my fear that I'll get lost). I tend to compensate by gluing myself to the lead-sheet, using my eyes instead of my ears, so it was very useful to me to learn something strictly by ear, without the safety net of written music.
Chris Batchelor, a strong and imaginative trumpet player and a very articulate teacher, addressed a lot of the musical issues that concern me at the moment in a way that I could grasp immediately.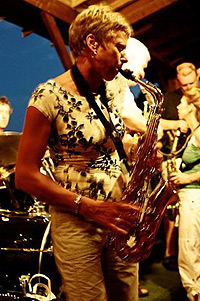 He led our workshop group the next day and taught us a simple, amusing New Orleans inspired Bill Frisell piece called "In Deep," also by ear. He also gave a master class demonstration that day, about breaking out of the patterns of jazz standards by changing phrasing, by playing the chord progressions out of phase, and other fairly technical matters. That mainly drove home for me how firmly you have to have a piece in your mind, in order to improvise against the structure and not confuse yourself.
But I don't want to go on about the specific things I learned, things that I want to work on and use now that I'm back home. The main point is that by the end of the week, a lot of us were sounding pretty good, playing confidently with a full tone, and enjoying ourselves. People who had never met had formed ensembles and were playing together nicely. Andrea and her brother Scott supervised the early evening jam sessions and made certain that no one got up on stage and monopolized the action, and the atmosphere among us was uniformly generous. People always applauded your solos, even if you got lost and sounded like shit.
What may be surprising is that there are enough people like me, mainly middle-aged amateurs, who are serious about our music to populate a jazz summer school like this. The other thing, of course, is that this was a demonstration that jazz has convincingly become a world music – you don't have to be American or African-American to love it or play it creditably. At our final concert, on Sunday night, August 6, our performance groups played: the Mingus band, the Salsa band, and the Soul band. The Mingus band started off with "Better Get Hit in the Soul," a lively evocation of black evangelical churches. There they were, about twelve white Europeans playing the blackest of black music with enthusiastic respect. And then another twelve northern Europeans played Cuban music with love and abandon. I've always looked at my musical activity, at least in one sense, as something that takes me places – and indeed it has.